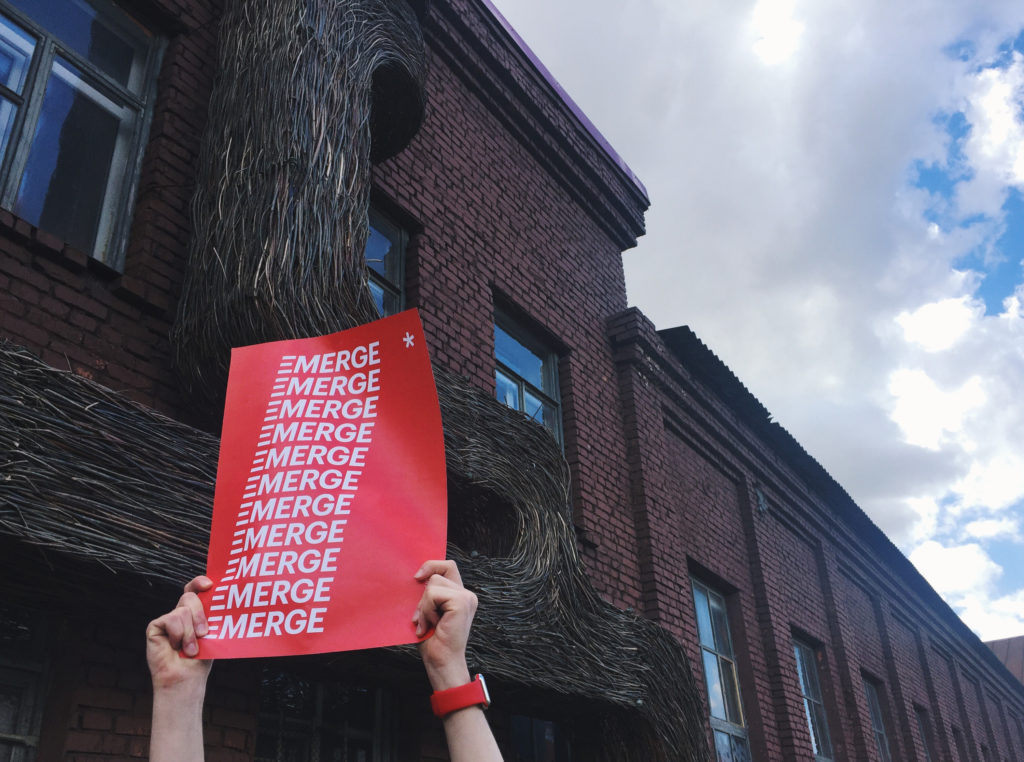 ---
On the 17th and 18th of May, I had the pleasure of attending the first edition of the EMERGE conference in Minsk, Belarus.
Organized by Alina Bezuglova (RuTech Community London) and Margo Lazarenkova (Create IT! community, Minsk), the new event offered a showcase for the amazing talent and energy coming out of the New East region: the Baltics, Eastern Europe, and Central Asia.
Held over an action packed 2 days at the venue OK16, a vast warehouse nestled in a formerly industrial area near downtown Minsk now characterized by cool street art, and hip coffee bars, any misconceptions about Minsk being stuck in the past, were soon blown away.
The event attracted more than 1400 participants, with an interesting mix of Russian, English and other Eastern European languages chatted away throughout. What first struck me at the event registration, was the eclectic mix of attendees from across the CEE region, but also from countries such as Belarus, Georgia, Armenia, Azerbaijan, Ukraine, Kazakhstan, which are often underrepresented in startup events and organizations found further west.
While many events in Western Europe are home to the 'same faces', EMERGE was a ripe breeding ground for new connections, building bridges between an abundance of up and coming ecosystems in the east, and more established startup hubs and organizations in Europe.
From the outset, the ability of these type of events to facilitate connections was pushed on attendees. In their opening speech the organizers encouraged attendees and local startups to put themselves out there, and take advantage of the chance of rubbing shoulders with, and chatting to people from other regions than their own.
Networking was not forced or staged, but there were a lot of conversations, and it was great to see locals taking pride in sharing the successes, and challenges of their local ecosystems. The organizers also facilitated private 'matchmaking' sessions between attending startups, investors and the media, but there was an air of accessibility and inclusion across the whole event.
"It has been quite important for us to create a meeting point for the players of the Tech-industry of New East so that they could make contacts, get acquainted and start joint projects. In addition, such a platform is also a way to open up to the world. We want EMERGE to become a must in the agenda of all those who are interested in working with New East." said organizers Margarita Lazarenkova and Alina Bezuglova.
The content timetable had been curated to offer real takeaways to growing startups, and the panels were designed to push forward the discussions on emerging trends and technologies, with a side focus on important issues such as sustainability, the future of food and the media.
In total 102 speakers from large tech giants like Microsoft, Facebook, Bayer, Dell as well as interesting additions such as NASA Singularity University and a range of local startup success stories, 17 investment companies and 14 accelerators, including Startup Wise Guys, Rockstart and Internet Initiatives Development Fund, offered a line up which kept visitors engaged and involved from start to finish.
Split over three stages (main stage, unicorn stage and workshop zone) the content was designed to really offer attendees solid ROI for their attendance, with solid takeaways that could really help to push their businesses forward.
With interesting presentations such as that by Andrew Gershfeld Partner at Flint Capital on what modern investors are really looking for, how to best catch the eye of potential corporate partners from Anastasia Makeenok, Emerging Audience Lead at Microsoft, and how to play test products from Vera Rabkina, Product Manager at Gismart, it was refreshing to see attendees scribbling notes, and taking photos of content they knew could help move forward too.
While the event definitely had its growing pains — microphones and clickers that didn't work and power cuts — it was well made up for by the interesting schedule, the friendly, welcoming EMERGE helpers constantly at hand, and the youthful energy of attendees. There was the atmosphere and enthusiasm of a music festival, especially since it may well have been the first time that many local Belarusian youngsters had the chance to attend such an event.
The organizers tried to involve local youngsters as much as possible, with a large team of English speaking volunteers manning every corner, and also special ticket prices for an abundance of student attendees. The new generation of Belarusian tech talent was highlighted in the BIZTECH Student Startup Competition, which despite some technical difficulties, gave teenage startup and innovation fans their 2 minutes of fame to pitch their products to an interested, enthused crowd.
Aside from a range of fun social events, filled with local cuisine, colours and flavors, and a pitch competition which saw AI powered content distribution platform E-Contenta walk away victorious from a strong group of 50 competitors, there was also a great range of side events.
Our friends from Riga, Tech Chill held a community builders Summit, bright and early on the Friday morning, and the brutally honest Startup FuckUps Night, featuring global startup A-listers like Oscar Kneppers founder and CEO of Rockstart, showed attendees that startup life is not always easy. And that it is ok to stumble… as long as you get back up again!
The first edition of EMERGE came out all guns blazing, and has marked itself as a must-attend event for anyone wanting to branch out into the new East, and more specifically Belarus, and learn about its rich, varied offerings, and up and coming tech community. I hope that 150sec, can continue connecting with local players in Minsk and that we will get more and more news, and insights from amazing startups, and entrepreneurs coming out of the area.
If you have any insights or experiences from EMERGE, or are based in this area and would like to share your news and announcements, please shoot me a message on [email protected]